RY
Class C Multi-Jet Water Meter (R160)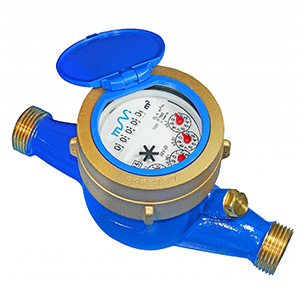 The RY type is a water meter with a magnetic transmission with anti-magnetic protection, and with a R160 measuring ratio. Its unique design permits the water meter to perform measurements from a flow of 6 liters per hour.

These water meters are available in various diameters ranging from DN15 to DN50, which facilitates primary and secondary measurement.
The measurement technology is suitable for the severe working conditions of the water network and is designed to work under pressures of up to 16 bar.
RY-type water meters are manufactured from components able to withstand temperatures of up to 70ºC.

Option:
The water meter is available with an pulse output or built-in internal transmitter for remote reading (AMR).
Benefits and features:
Excellent cost / benefit ratio
Certification of MID European Standard
Components that are resistant to water temperatures up to 70ºC
Precise design facilitating measuring accuracy from a flow of 6 liters per hour
Option for remote reading by means of a built-in internal transmitter or pulse output.